Op deze pagina posten we diverse berichten waarvan wij denken dat jullie ze als kijker wel leuk en of interessant zouden vinden.
19-07-2021 20.30hr (Hoog Sensitieve Personen (HSP))
In deze tweede uitzending van Het Grote Mysterie hadden J.D. en Léon het over HSP (Hoog Sensitieve Personen).
Wat zijn de meest voorkomende kenmerken van HSP en hoe kom je er achter of je HSP bent of niet. Ook deden zij een test met 23 vragen die je alleen met ja of nee  kan beantwoorden. Na de test kan je aan de hand van je uitslag kijken hoe jij er in staat! Om deze uitzending terug te kijken,
klik hier
.
Wil je de test zelf ook doen omdat het in de uitzending wat te snel ging? klik dan hier.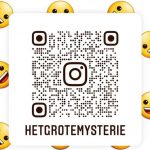 Ondanks dat velen van jullie ons al volgen op Facebook kan je ook nog abonneren op ons YouTube kanaal 
Daarnaast zitten we nu ook op Instagram! Dus like en volg ook onze Insta pagina.